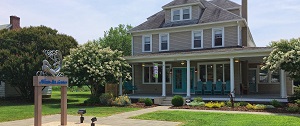 Virginia artist, Anne Stine, was recently accepted as a resident artist at Allure Art Center in White Stone, Va. Allure Art Center is a professional art center featuring a fine art gallery that highlights original art by award winning Virginia artists.  The gallery is located in the beautiful Northern Neck region of eastern Virginia near the Chesapeake Bay. The 1,200 sq. ft. gallery space is on the first floor of a house built in 1901 and is filled with work by regional artists.
Anne is best known for her encaustic mixed media landscape paintings that reflect an intimate, human connection with the natural world. She adds a contemporary twist to landscape painting by combining oils with encaustic beeswax medium, then fuses each layer using heat onto a wood panel. Visually, her paintings are lively and instantly recognizable, capturing the aesthetics of serene environments through her brilliant use of color and texture. "I want people to see nature through the eyes of a child, full of awe and wonder, to help recapture the often forgotten connection to Mother Earth." As a resident artist, Anne's work will be regularly shown at the gallery.  Currently, she has four contemporary encaustic landscapes exhibited in the main gallery. (Click the image for details about each painting including price.)
Anne's first exhibition at the gallery will be this summer from  June 9 – July 31, 2022, along with the work of cold wax artist, Julie Fritz. The exhibition is titled, "Artful Wax – A Multimedia Painting Exhibit" taking place at Allure Art Center's Main Gallery. The collection of Anne's work will include around 10 large format paintings depicting water scenes highlighting the beautiful river scenery found in the Northern Neck region. "I'm delighted to be a part of this professional gallery located in one of my favorite areas in Virginia," says Anne. "As a Virginian native, it's so important to me to share my work across the state. I plan on visiting and painting there often."
Anne also plans on participating in the Allure's annual plein air event held in April. Her paintings created during this event will be exhibited along with those from other artists at the gallery following the event.
To learn more about Allure go to https://allureartcenter.com/. To see Anne's complete collection of encaustic landscape paintings and learn more about her as an artist, go to https://annestine.com/wp6/.