Instruction
New Workshops Coming in September, 2023! Sign up for the newsletter for announcements of dates and times.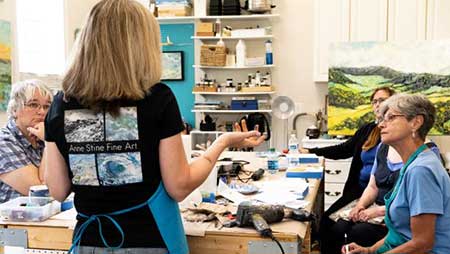 All workshops take place at Anne Stine Fine Art studio located in Purcellville, VA 20132.
Having worked with mixed media and specifically beeswax encaustic as a professional artist and instructor for many years, Anne Stine has extensive experience and knowledge to share with beginner and advanced students alike. Her training as a professional artist in painting, composition, drawing, oils, acrylic and encaustic techniques equips her with a vast array of expertise that will help encourage and guide students to a greater understanding of the media and their artistic vision.
Lean more about Anne Stine, encaustic artist HERE.
W O R K S H O P S
The main goal of  group workshops is to help each student acquire a facility with the material towards finding their personal artistic voice. The time spent in the studio is meant to offer students a break from day-to-day life and connect with their inner creativity in a low-stress environment. Students walk away from the experience more confident in their creative expression and feeling refreshed.  Workshops are limited to six to eight students to provide close personal attention. After a demonstration of the technique, students work on their own original painting with Anne's guidance.
P R I V A T E    I N S T R U C T I O N
Individual sessions are also available. This affords the student a personalized experience catering to their skill level and speed of working. Individual sessions can also allow for personal critique. For information on scheduling private sessions, contact Anne at anne [@] annestine.com.
Feedback from a student
"Hi Anne—Been meaning to let you know how much I enjoyed your beginner encaustic class. I would never have thought to use pan pastels on the wax, and wouldn't have known the depth and richness alcohol inks provide. Most of all, I want to thank you for the patient tutorial on using the torch! I left class and went directly to Lowe's for an extension hose. You helped me feel comfortable using the live flame I now use without a second thought. I look forward to attending future classes!  All best, C.B."