As a young girl my connection with the Earth was strong. I would splash in the creeks near my home on hot summer days, climb the beautifully sculpted rocks surrounded by trees, and bask in the natural playground our world provided. Today, as I lay on the warm surface of a sun-baked boulder or explore a cavern deep under our Earth's surface, I feel that same connection as I did when I was small. Just like us, the Earth has its own life and story told within its elements. By examining a simple rock we can see how and when the Earth carved out each of its magnificent landscapes. However, to find the specific story one must look at the scars of the earth to find its life. With rock formations, like rings on a tree stump, every rock documents its history and tells a story that is waiting to be discovered. We must merely dig deep in the earth, and within ourselves, to find the story that is begging to be told.
The Concept
As I was forming my vision for a geologically-inspired collection, I began to see more and more similarities between the life of rocks and people. We both hold stories of tragedy and triumph within us. We all come in different shapes and sizes. Some of us are transported many miles from our original homes, while others stay in their hometowns all their lives. We do our best to adapt to changes in our environments, suffer trauma, and rebuild ourselves over time. Some of our scars are visible while others are hidden. We endure.
This became the concept of the collection – using geology as a lens to explore the connection and embodied similarities we share with our Earth. My hope is to draw that empathy out and bring forth the collective desire to care and nurture the planet. Afterall, the more we personally know someone, or something, the more we want to cultivate their well-being.
When I first started thinking about how I was going to visually represent this concept,  I used hypotheticals to ignite my imagination (ex. What if rocks were a field of flowers? What if rocks could feel? What if rocks lived in communities? etc.)  I wanted to express the physical evidence of the events our planet has endured such as trauma, decay, growth, and transformation in my designs while incorporating a more human-like quality to these otherwise sedimentary environments. And, it was important to me to show the beauty in accepting the natural cycle of growth and decay, life and death, as well as embracing the imperfections that comes with it.  These ideas form the basis for the imagery in the collection.
The Process
Like the formation of Earth itself, these paintings are created with multiple layers of materials. Encaustic paint, oils, cold wax, alcohol inks, wax pencils, and chalk paint are all applied to a wood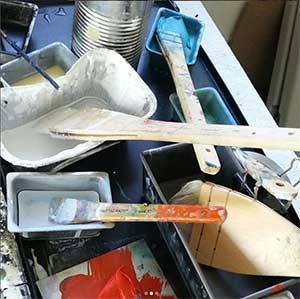 substrate and carefully layered. Then, they are fused with heat and scraped back repeatedly to reveal the intended visual texture and my vision. Encaustic paint is a combination of beeswax, damar resin, and pigment that gives my paintings dramatic texture, vivid color, and a luminescent quality. I also added cold wax mixed with oils for another layer of complexity. Cold wax allows me to create a more defined quality to aspects of the painting that basic encaustic paint cannot easily provide. (To view a video showing my encaustic painting process, click HERE).
I also thought it necessary to represent a wide variety of rock formation characteristics playing with size ranging from tall mountains to tiny pebbles, locations above and below ground, and environments near water or desert; all expressed in a full range of palette colors. 
As you will see, there is both representational and abstract design within the collection. It was my intent to begin working representationally, and with each new painting, become more and more abstract. I wanted to visually narrate how we tend to see the world as it is, or as we want it to be, and it's only through further exploration we begin to realize a deeper meaning underlining the reality we are seeing.
The artwork titles I chose are inspired by the works of William Shakespeare, the greatest storyteller of all time, adding a deeper understanding of my intent of each piece.
Conclusion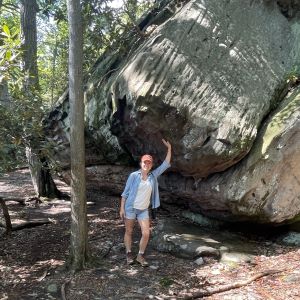 Ever since childhood, nature has been my sanctuary where I catch my breath and meditate on the spiritual bond I experience when I'm totally immersed in its beauty. It's this deep personal connection and the childlike wonder of our natural world that I wish to share with others as motivation to cherish and preserve the environment that I hold so dear to my heart.  I want to shine a light on the codependent relationship we share with nature, how it can heal the soul and bring a sense of solace in our otherwise chaotic world.
This geologically-inspired collection depicts the fragility of our planet and relays the message that by healing the environment, we heal ourselves. It explores the powerful, fundamental need – mental, spiritual, and physical – human beings share for the natural world, and how reconnecting with nature can give a broader sense of community and of life itself. The next time you hold a pebble in your hand, realize you possess a tiny capsule of history that tells a story eons old. How will this story end? It's really up to us. The good news is that there's still time to create a happy ending to our collective story.
Feel free to contact me if you have any questions about a particular piece. Please contact the Athenaeum directly for all purchase inquiries during the exhibition dates.
The collection will be exhibition at the Athenaeum gallery in Alexandria, Virginia, from September 7 to October 15, 2023. Reception is scheduled for Sunday, October 1, 2023, 4-6 pm. 
The Athenaeum Gallery is the headquarters of the Northern Virginia Fine Arts Association (NVFAA). Founded in 1964, the NVFAA is dedicated to the pursuit of excellence in all forms of art, and to establishing programs that will enrich the cultural life of Northern Virginia and the surrounding metropolitan area. The Athenaeum Gallery exhibits work created solely by artists living or working in the region and strives to present visitors with a wide variety of excellent work and unique experiences.
The Northern Virginia Fine Arts Association (NVFAA) | The Athenaeum Gallery  |  201 Prince Street, Alexandria, VA 22314  | 703 548 0035
If you would like to see more of my work go to https://www.annestine.com. I send out a "Collectors Alert" email once a month announcing newly available artwork. You can sign up HERE to join this list.